I had some comments about what I wrote about last week, and that people were surprised I enjoyed Transformers. I think it's clear between the lines, I'm not prejudiced, I enjoy "high" and popular culture, any expression in general that is genuine in what it tries to do. Hollywood has become a bad word to a lot of people, but that doesn't mean that a film can't be good entertainment within the confines of its genre and the realm of corny high school romance and bully cliches. Especially when it concerns gigantic robots as protagonists, how do you engage an audience and create a world where machines are in fact living entities? Bay's megalomaniac over the top style was probably perfect for this film, although I wouldn't want to see that applied to a more realistic spy thriller or drama.
Same with "art" films, some are good, some are just plain pretentious bullshit. The moment somebody says either: I'm going to make a film that is "art" or we're going to make a shitload of money as the first step in a project, it will show. One can lead to the other, but the most important thing remains that the viewer/audience should be grabbed by what's in front of them and teleported to another world, another state of mind.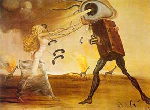 And when a film does that well it can be called a success, no matter what genre, budget or age group it was designed for. There are different levels and places that art can transport us to of course. Which brings me to the Salvador Dali and Film exhibition at the Tate Modern, which I checked out Tuesday.
http://www.tate.org.uk/modern/exhibitions/daliandfilm/default.shtm
When I first arrived in Europe back in 1992, I bought a book on his life and work and immediately got the sense that this was an artist that transports you to other worlds and dimensions, particularly the realm of dreams. At first sight, his work is aesthetically pleasing, but on deeper levels, much more can be read into it.
The main reason I went to the xhibit, was to see Destino, an amazing collaboration with Disney, which was deemed too controversial at the time, but through all the notes, paintings and storyboards was finally reconstructed in 2003. And it definitely didn't disappoint, it's a short animation that flows from one brilliant image to the next.
Then there's of course the famous dream sequence of Hitchcock's Spellbound, equally haunting in the way it's shot and even more awe inspiring if you keep in mind that back then there was no CGI or computer compositing, but everything had to be done with optical printers. The room with gangster film influenced pencil sketches had some work I'd never seen before and in general it was great to see his amazing technique up close, subtle shades of colour and incredible detail on fairly small paintings in fact.
Dali was later accused of the same "commercialism" that Hollywood has nearly become synonymous with, but his lasting legacy speaks for itself.
For a few interesting links:
http://www.johncoulthart.com/feuilleton/?p=1995
http://arts.guardian.co.uk/art/visualart/story/0,,2088399,00.html
For those visiting or living in London before 9 September, definitely worth it. I only had 2 hours before closing time, I'd say take out 3 hours minimum.
Check it out.