As mentioned last week, I was plunged into an extraordinary time capsule from the past, present and future, the ancient tradition of the Shuar tribe rooted in Ecuador. For centuries they defied the European conquest and finally abandoned their practice of headhunting in the 20th century, making their step towards adaptation with the "modern" world, without losing their tradition and cultural pride. The majority still live in the rain forest and only speak their traditional language, except for the few with formal education, who also speak Spanish.
A few links on Wikipedia:
http://www.uweb.ucsb.edu/~eschniter/AMAZONIA/index.html
Don't know this organization, but for info on Ayuahasca, Vine of the Soul (and pictures of the Shuar shamans) :
http://www.the-awakening.net/artikelen/Tonantzin.html
Having arrived on Monday 2 July in Amsterdam for business, meetings and the usual mundane stuff that comes with the entrepreneurial responsibilities, on Tuesday I suddenly received a call from Mano --a Mexican film maker friend-- that the younger of the Shaman brothers, Miguel Chiriap, was in town before travelling to Germany (where they are often work in association with the Heidelberg university) and Spain. This would be a rare opportunity to meet him at Quetzal's home, a Maya from Mexico who has been living in Europe for over 20 years, but besides his work in the petrochemical industry functions as translator and organizer of healing ceremonies. Refreshing to see positive and driven people for a change after all the talk and big blow up egos in the media industry, where it's mostly form over substance. It's an annoying and constant reminder of how many people believe that our reality only exists on a physical, material plane.
Even those with experience in mushrooms, Peyote and several of the available psychedelics seem to use it merely for recreational use, just to please the senses. To the medicine men, the curanderos, the plant is a powerful entity and they always refer to it as "la medicina", the medicine. It's not some vehicle to get you high, but a powerful ally to heal and teach things about life.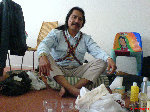 There are too many fascinating details to go into here, as it turned out to be an incredible private Ayahuasca ceremony with just three of us, with a whole range of fascinating music instruments we played, herbs and chants that purified the intention and drive, the shaman guiding our consciousness through the sacred spirits of the plants, animals and so on. All too complicated or personal too describe and probably only recognisable for those who have had similar experiences within spiritual traditions. It can be compared to being attached to some virtual reality kind of machine, with the hyper reality level kicking in, all senses heightened to a super alertness. If we had been in the jungle instead of a flat, the vibrations of all plants and living creatures would have been visible, audible and tangible.
Although I had a few years of Spanish in secondary modern school, it's not my first language and I haven't really found time to pick it up or practice my fluency in the last decade. Yet I understood nearly everything he was talking about, how there should be no fear between people, and respect for man, woman, plant, animals, seed, semen, womb, universe, God, in fact for everything alive within and around us. It seemed like days, or hours or minutes, time was suddenly a ridiculously limiting human concept. We started around 22:30 and were finished at 7:00 AM without any exhaustion, feeling completely energized as if awoken from some deep sleep or dream. Yet all the time we were fully conscious, while rain poured down heavy and violently outside with thunder and lightning.
But what is also really positive about all this: They are collecting contributions from people to attend the healing ceremonies and build a school for their collective of 18 tribes. Most are illiterate, so education is high on their priority list. Though still deeply rooted within their ancient tradition, the shaman brothers are educated and their children are in university. Their basic philosophy is that consciousness and knowledge strengthen a human being's will and creates better understanding and more love between people. As said before, in sceptical times like this, whenever people hear the word "love" they think of the product marketed towards consumers in the form of valentine gifts or any of the saccharine meanings and perversions. In the end it's about a deep appreciation for the powerful gift of life we're being given, if our body and mind is healthy we often take it for granted without realizing how much wealth that is. No money in the world can buy that, but it can be maintained; and gratitude and mutual respect are definitely something these shamans propagate.
This is the same in the monotheistic religions of "respect thy neighbour" and "do onto others as you want done onto you" or the way that Samurai or martial artists from various cultures used to write poetry in respect of nature and compassion –or meditate-- as a counterpart to their way of battle.
The fact that there is such a high demand from people –often from high positions in Europe-- to invite these travelling shamans at healing rituals seems to indicate a growing interest in understanding our reality beyond the material and mundane level. Unfortunately, there are often quacks and frauds posing as real healers. Their greed and incompetence gives the real ones and the entire occupation a bad name. Fact is that a real shaman has specialized in healing and understanding consciousness and the body over an entire lifetime, acquiring skills and knowledge in so many areas. It is a great responsibility and cannot be take on by everyone. Botanical knowledge is merely one aspect.
Another interesting detail that just came flashing back: Miguel had a beautifully self crafted two string violin, very light and smooth cedar wood, with the head of a woman and her body on the front shaped by two serpents. Alan Moore's choice of the caduceus or double helix snakes and obviously my own affiliation with Shadowsnake, immediately sprang to mind. Each probably had a certain reason why they chose the serpent (or vice versa), but that's getting too complicated to go into cosmology and symbolism right now. You can write entire books just on those topics.
Fact is, in an increasingly materialistic society, occasional experiences like this are necessary for us to realize that the physical world is only a glimpse of what really exists. Our senses are limited, and even more so with all the advertisement and programming bombarding our brains. But most of the time, we are free to make our own choices.