This gonna be a long one folks, for the fellow music lovers.
Last Friday me and photographer-friend-R&R samurai Alex embarked on a 7 hour coach ride from London to Minehead to check out All Tomorrow's Parties music festival, where we had been invited by the organisation. It's a very laid back festival for alternative music that has grown from 3,500 to 5,000 visitors, all accommodated in chalets close to the sea side, or simply put a village with motel like rooms with proper showers and some with cooking facilities. So no tents, no VIP sections, no mud, just indoor halls and a lot of music, more than anybody has time or energy for. The choice and high level of originality and artistry is overwhelming as gigs are fro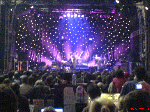 m 13:00 to 02:00 and every event is curated by different artists.
The last two I did filming for in 2005 were curated by Vincent Gallo and The Mars Volta, with a range of artists from Yoko Ono, Ted Curson, Peaches, Sean Lennon, John Frusciante, Gang Gang Dance,PJ Harvey, Suicide, Acid Mothers Temple, Antony and the Johnsons, The Cinematic Orchestra, CocoRosie, Damo Suzuki + Jelly Planet, Dälek, Diamanda Galás, Lydia Lunch, Madlib, Mastodon, Michael Rother, Quintron And Miss Pussycat, Saul Williams, Subtitle, to name a few.
This event was curated by Dirty Three headed by Warren Ellis (not the comics writer, but Bad Seeds member) known for collaborations with Nick Cave.
Diry Three simply blew away the audience on Friday night. Considering they were curating the event, all the respect to Ellis for his energy: the man performed as if possessed, the only thing keeping him somewhat restrained was his violin, with which he produced a beautiful spectrum of sound ranging from the melancholic to pure rage and controlled feedback.
I didn't know their music at all, but as Alex warned me: Its' not like anything you heard before.
Feedback is one of my favourite sounds, but hard to reproduce as it depends on the distance and angle from the amplifiers and many other factors. Carlos Santana was famous for using it to create his signature endless sustain on his guitar. So to hear it melodically used in a great instrumental set with a wall of sound was a clear sign of Warren Ellis' control and artistry, a Jimi Hendrix on violin.
Later in the night we watched Psarandonis, a Greek performer who played the lyra together with a quartet of musicians (3 of which are his children) in a great blend of traditional and modern music, from gentle melodies that gradually whipped up the audience to a frenzy. Another bearded artistic outlaw and with Ellis, and Josh Pearson (wild gig to end the night) walking past with flaming long beards next to thousands of Mindscape of Alan Moore flyers floating around, the whole thing got a bit surreal to us.
Then Saturday Nick Cave (solo) with Warren Ellis and band in a very good show to end that with: "Thank you, and stick around for the next band." Grinderman. Never heard of them before this weekend, but essentially it's Nick Cave with most of the same band, but in a different, more aggressive punk-blues vibe. I had always found Cave's music and poetic storytelling interesting and truly inspired, but had not kept up with the last few albums.
To see him now at 49, back to the roots of his primal rage, but without the angst. It was still dark and haunting, but without the despair. More of a "I'll fuck anything that moves and shoot anybody in my way down" blues on testosterone and moonshine whiskey in an incredible wall of sound. The press and fans seem to speak about "re-inventing" but that doesn't cover the live experience, although I have no idea of the album sounds the same. Cave never really plays the songs the same live and usually changes the orchestra or heaviness.
I don't think I've been blown away like that since Metallica (1993, then in their peak) Rotterdam Feijenoord playing against 50,000 headbanging fans. Grinderman's live debut (and apparently maybe only) live performance had a few thousand people nearly moshing on some songs. Exactly how I liked --and had missed from-- music, full of energy, with a sense of urgency, but paced with variation and ultra heavy. Jim Sclavunos (another bearded guest) on drums was propelling the band forward with great skill and confidence, with Martyn Casey's thundering bass laying the foundation for Ellis on a whole range of instruments from bouzouki to violin and Cave on guitars, hammond (or electric organ) and vocals.
Einsturzende Neubauten's music I had known for at least 10 years, but had never seen them live. The somewhat smaller Centre Stage was packed to the hilt with a long queue, so we snuck past with press passes into the dark and acoustically better hall with the choking fog of cigarette smoke (can't wait till the official ban).The beginning was a bit more "avant garde" and poetic, but the last 30 minutes was an incredible industrial and electronic orchestra that had the crowd calling them back twice.
If all that wasn't enough, Sunday was ripped wide open by Dirty Three again, later followed by Silver Mount Zion Orchestra (another band founded by Godspeed You! Black Emperor guitarist Efrim) in a more cinematic atmosphere. Catpower & Dirty Delta Blues later on, with Nick Cave and Grinderman coming up again
And for the second time I was blown away again. Hopefully these two gigs won't be their last, as it's the biggest musical surprise of this year and with more power than most of the contemporary and much younger bands.
As a lot of good gigs overlapped we missed the lesser known but equally impressive bands, Felix Lajko, Yugoslavian-Hungarian zyther and violin player I just managed to see parts of, but not to be missed next time.
Secretary was literally a secretary style dressed saxophonist first typing her music (with Basic instinct reference included) on the last night, so before going back to base camp to sleep we bumped into Warren Ellis, shaking hands for a last thank you to an incredible line up and festival, which this time had a laid back aussie and outlaw kind of feel.
That was mostly it for the last night as we had to catch a ride back at 5.45 am to be back in London by 11 am. But despite immediately getting back to work, the buzz is still there and can't believe I nearly didn't go because of too many other obligations. This particular ATP was to me one of the most coherent ones, as the performing acts were all different, but on a similar wave length and vibe.
As I didn't have to work the camera commando missions from the inside this time, it was actually very good to experience it from the perspective of an audience and understand the whole phenomenon of festivals much better. In the end, it's an immersion into music and creative energy, a step into another world and vibe, with a large number of individuals suddenly forming a community. Something that can't be replicated by listening to recorded music and a very necessary part of our humanity.
And as a filmmaker it all does wake up dormant or slumbering ideas and drive.