The Eagle has landed. Back in London on Tuesday morning, although the plane left San Francisco Monday afternoon. So my mental calendar and bio rhythm are slightly messed up as it's impossible to get any real sleep with crying babies on board of the plane and upright chairs. Straight back to work without resting, the usual red tape and a few kilos of post to go through, then running in some fresh victuals, at night a battery charge of 14 hours, which must be a record as I usually only need 7-8 hours of sleep per day (often don't have more time than 6 1/2).
I realised I didn't read or watch films in the last two weeks, except 28 Weeks Later (weak horror compared to the first one) on the plane going to CA and Sugarhouse (mediocre pseudo-realistic British drama-thriller with again the usual "hard and violent" character, a middle class and a junkie stereotype). I actually don't miss films if there's enough exposure to music. People are always surprised that I never watch TV, although I'm a filmmaker. Watching some of the rubbish "reality" shows in the USA such as I Love New York, the Judge shows (some kind of civil court with people fighting over petty things and material possessions) confirmed my prejudice. There are periods when I prefer real people and real communication over pre-fab audio visual programming.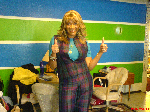 And in the Bay Area / San Francisco I was mostly with friends and connections from the reggae music scene, so plenty of stuff to catch up on. Also met up with London born DJ Brixton Hitman:
New musical discovery by the way: Fantan Mojah, artist to watch out for. He's got the fire, he's got the beats and he's got the message. Check it out
The last 5 years of travelling have always brought me inside the real heart of the cities I visit, rather than the surface touristic settings and "famous" locations or buildings. Once you actually communicate with people in their homes and habitat, you get a much better and more realistic sense of what the soul of a city is, rather than the postcard image projected in the media.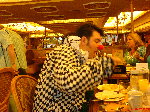 This is obviously a personal thing, as I rather check out what's going on underground rather than the glossy marble tiled shopping malls or fancy restaurants which are of course also part of a city's landscape, but can give a false sense of security far away from the real vibration of the various subcultures and scenes within an urban scape.
Therefore, every place has a story of failure and one of triumph. No place can be judged by what's presented in the media alone or by a single personal experience or contact with other people and places. So far my favourite city in the USA is still San Francisco (fitting that I'm apparently getting some kind of proclamation or key to the city from the mayor), or better said the entire Bay Area, as it's surrounded by a lot of wild space and has an incredible cosmopolitan vibe and mixed population. I even met coincidentally with people from Suriname two years ago, who were just as surprised as I was, given the fact that most of our country's brain-drain seeped into Florida, Canada and The Netherlands. Especially the jazz musicians are notoriously itinerant creatures.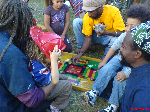 In Oakland alone I saw so many different bars and scenes, e.g. one night I passed a soul bar and just had to step in because there was some great old school blues and soul band playing, and the place was loud and happening. Only the day after when a friend asked me where I'd been, she told me that it was supposedly a rough place where a lot of dealers went. In the end it's the vibe I care about and stories can be good warnings to remain alert and careful, but it is still how you walk through life and meet others that will keep you safe from harm.
The world in the end is a small ball of dirt compiled of even smaller chunks of land and it is unfortunate that the majority of our population remains ignorant, minds stuck into individual mental ghettos, even when well travelled or educated. Anyway, I'm back in dark and cold London and focusing on a few different projects, some short term, some long term, a lot of work, so to answer another question that came in: no, I most likely will not have more time to write the weblog more than once a week.
Quality still rules over quantity.