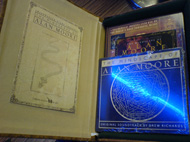 THE MINDSCAPE OF ALAN MOORE – SPECIAL 360 LIMITED EDITION
Dir: DeZ Vylenz. 78 mins feature. 35mm colour, 2003, 2006.
Dolby Digital Surround.
Click here to see the trailer
| | |
| --- | --- |
| SPECIAL EDITION DVD | |
AFTER EMAIL CONFIRMATION
£ 87.00
PLEASE NOTE:
The Special Limited Edition of The Mindscape of Alan Moore can only be purchased after ordering via email. They are only 360, made to order and therefore not readily available. Our 2007 online pre-order clients have priority to purchase this collector's item.
Each artefact is individually handmade by a craftsman bookbinder with carefully selected materials. Genuine sheepskin leather with shades from light to dark brown in naturally occurring patterns.
The Special Limited Edition of The Mindscape of Alan Moore was exclusively designed as an antique grimoire by Shori Jie and Shadowsnake to contain: The double disc DVD edition of Mindscape, the music CD of the original soundtrack and a mini print of the original film screening poster all secured in the lined box by a brass button.
The cover and spine are heat branded with the production entity's emblem and the film's title.
Each artefact is individually numbered from 0-360 and signed by Alan Moore and DeZ Vylenz.
The book shaped box is around 4.5mm thick and will fit on a book or film shelf with 23 cm in height or in a special vitrine.
The total price of the package is £ 87 + shipping £ 14.50.
* prices may fluctuate with materials becoming more expensive.
| | |
| --- | --- |
| SPECIAL EDITION DVD | |